June 08, 2022
Ornament Painting
How we maintain our wreath, garland, and tree ornaments!
The holidays do not stop here at Exterior Products. We are well into our off-season as our shop crew prepares for the holidays. Part of this preparation is refurbishing weather-beaten decor. This year we are working on repainting the ornaments that faded last holiday. Like the wreath bows, we find that we have to take it upon ourselves to provide the quality products our clients deserve. We invite you to take a look at our painting and UV coating process.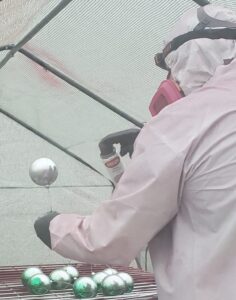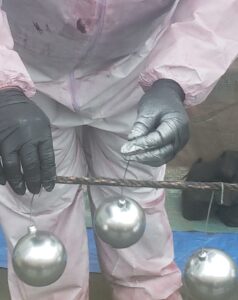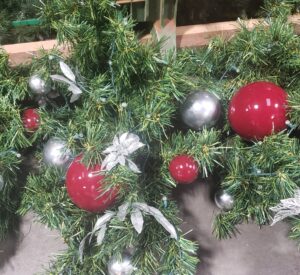 It starts with stripping old paint and priming the ornament. Our painter then selects a color that will match the pallet of the wreath, garland, or tree the ornament will be displayed on. Once dry, UV and weather protective coatings are applied. Then the ornament is ready to reunite with its original decor. Our silver ornament here will be reunited with its tree branch soon.
It is always our pleasure to keep the holidays lustrous!