Light pole banners are the perfect way to celebrate special occasions and promote cultural or sporting events. They also inspire community pride and spread holiday cheer. Consequently, we have a wide selection of stock designs to help you make your property truly stand out!
Need a cost-effective decoration for your street or parking lot this season? Without a doubt, screen printed canvas or digitally printed vinyl light pole banners are a stellar choice. At Exterior Products, we will install banners for any holiday your community might celebrate. Let us help you turn a drab location into a festive destination!
Screen Printed Holiday Banners
Screen printed banners are made with UV-resistant, heat-cured inks on durable marine canvas fabric, and the results speak for themselves! These banners are able to withstand harsh weather conditions in all seasons while resisting fading. It's an easy way to enhance your property for 3-5 years of use, as long as your banners are correctly installed, stored, and cared for.
With plenty of stock designs to choose from, you won't need an entire art department at your disposal to create something beautiful and long-lasting. On the other hand, if you do have customization in mind, you can trust us to help you develop your ideas into the crisp lines and bold colors that best represent your organization.
Screen printing is both a traditional artistic technique and a production printing method. Screen print inks can be PMS color matched very closely to your desired color range, and our recommended Sunbrella Marine canvas fabric comes in a wide variety of colors. Lead time is usually 3 to 4 weeks for custom screen printing.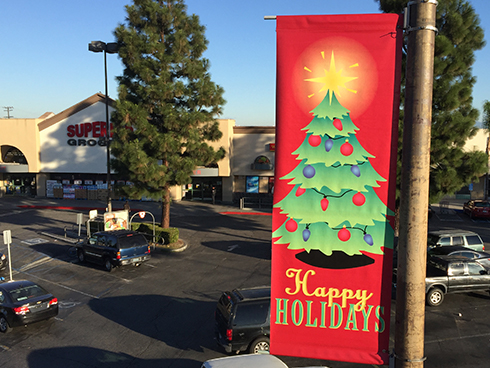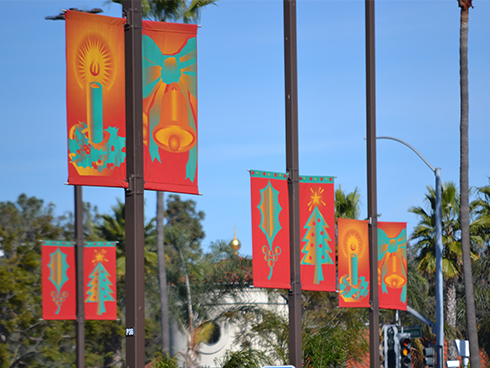 Contact us for your holiday banner needs.
Looking for replacement parts?