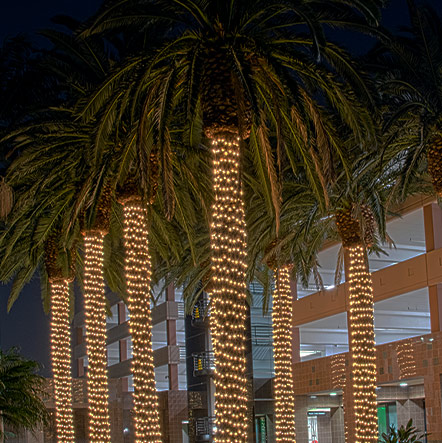 It's not a holiday celebration if you don't deck the halls with lighting. The same goes for your commercial property, too! Whether you need a tasteful and picturesque building treatment or an elaborate North Pole scene complete with Santa's workshop, there are endless solutions that will sparkle throughout the season. 
Holiday Tree Lights
There is nothing more festive than sparkling trees during the holidays. They allow you to create an inviting atmosphere to enhance your customers' and tenants' holiday experience. Holiday tree lighting brightens up outdoor walkways and seating areas. As a result, you attract more evening and nighttime foot traffic to your food court, courtyard, or promenade.
Holiday Building Lights
Holiday building lighting should be taken seriously. Professionals can adapt seasonal building lighting applications to any scale or budget. Outdoor-rated commercial socket stringers and faceted LED C-7 and C-9 bulbs allow for ideal brightness and optics with unsurpassed energy-efficiency. One of the most popular and traditional bulb colors is Sun Warm White. Slightly warmer in tone than average warm white lights, it's designed to faithfully imitate the classic incandescent string lights of childhood. 
Celebrate All Year
Why limit the festivity to just one season? Temporary and seasonal lighting are perfect for just about any celebration your organization or retail center takes part in. From Chinese New Year to Independence Day to Halloween, companies like Exterior Products can have your property covered year-round. 
Want to learn more about how holiday lighting can improve your commercial property? Contact us! 
Exterior Products is the most recommended professional contracting and supply source for retail centers, malls, municipalities, and other commercial properties across Southern California. We specialize in property maintenance, outdoor vinyl banners, commercial holiday decor, and more! Please request a quote if you are interested in any of our products or services.