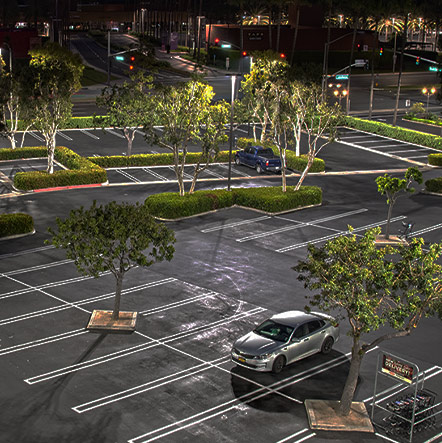 Commercial LED lighting is becoming increasingly popular. It has been predicted that the global LED market is expected to grow by 13% CAGR through 2024. In "light" of this, we've gathered three ways your commercial property can benefit from LED lighting:
Lower Costs
Typically, shopping centers using traditional HID lamps spend a pretty penny and a great amount of time replacing broken or malfunctioning bulbs and ballasts. This may be due to vandalism, the elements, or faulty equipment. When you retrofit your lighting to LED, you cut these costs dramatically. LEDs are more durable and longer-lived than HID lamps, and your maintenance crew will have a lot less to repair over time.
Green Rewards
LED fixtures use only a small fraction of the energy that High-Intensity Discharge (HID) lamps use. Upgrading your shopping center's light fixtures to LED increases your energy efficiency, lowers your maintenance costs, improves foot traffic, and reduces your organization's carbon footprint. This means you get to pay less on your monthly energy bills, and you help the environment at the same time. Your energy provider may even offer a rebate for having your light fixtures retrofitted. 
More Security
Your customers won't feel comfortable walking through a parking lot at night when the lighting is inadequate, and they want to know that their car will be safe while it's parked. Not only do LED fixtures produce more light than HID lamps, but they also spread that light more evenly, reducing dark spots in your shopping center and increasing safety and security overall.
Want to learn more about how LED retrofit modernization can improve your commercial property? Contact us! 
Exterior Products is the most recommended professional contracting and supply source for retail centers, malls, municipalities, and other commercial properties across Southern California. We specialize in property maintenance, outdoor vinyl banners, commercial holiday decor, and more! Please request a quote if you are interested in any of our products or services.