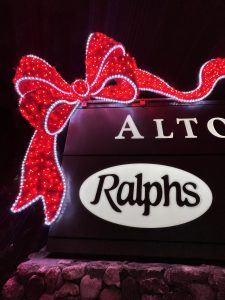 December 22, 2021
How to Holiday
A brief on what it takes to furnish holiday glam for 100+ shopping centers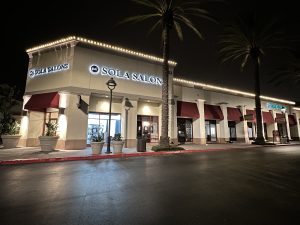 The bottom line, you need an excellent team! From the office to the field crew, it takes dedicated people with creative and technical skills to make this all possible. It also takes a special kind of person, as a single step (like installing clips) can be repeated over 100 times in a night! Yet, even with the repetition of steps, each project has a unique layout.
It also takes a lot of time and careful planning. To effectively furnish so many properties, we devised a multi-stage installation schedule that starts as early as August. With preparation like this, we can get the building lighting up first and gradually prep multiple properties until the flashy holiday decor should be up.
While field crews are out and about running lights before December, we have staff that preps and fluffs up our trees, wreaths, garlands, and pole wraps to ensure they are gorgeous before being taken out to the property. Many of our products, especially monument garlands and bows, are custom-fit to the structure they sit on. Each product has a property, and our organized inventory system and proprietary site maps ensure no mix-ups occur with products and properties.
THE TAKE DOWNS ARE ALMOST HERE
The Holiday lighting has had plenty of time to shine!
After a couple of weeks of respite, our crew is readying up to un-holiday all these shopping centers. Enjoy the lights while you still can! Come the end of December and early January we will be out and about packing it all up!