October 5, 2022
Holidays Will Be Here Soon!
28 days until the start of November! Holiday crunch time starts soon!
Once again we here at Exterior Products find ourselves at the calm before the pumpkin-spiced storm. For the past couple months we have been making preparations in our facility by replacing, repairing, and refurbishing decor. Now for the month of October we will be gradually preparing centers around SoCal for the holiday season.
More subtle holiday decor like building, palm, and tree lighting is already being installed at some centers!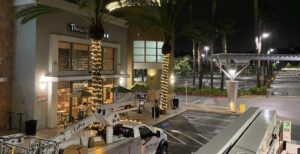 Come November, we will be in full swing with our holiday installations. The lights installed the prior month will get plugged in. Monuments will be topped with garlands and bows. Impressive Christmas trees will pop up at several centers. Holiday banners will decorate many light poles. The wreaths we freshly refurbished will also be on display with our other decor.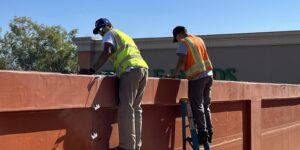 Commercial Holiday Decor Made Easy: Vinyl Banners
Completely customizable graphics and perfect for outdoor applications, vinyl banners are a great choice if you are pressed for time and budget this holiday season. They can be made to order at any size and application.
The most common application we provide for is light pole installation. Depending on your needs and budget, hardware can be included with your purchase as well as an installation and removal plan. When you let us handle your install, we survey and plot your light poles so you know exactly where your banners are located.
Common Specs for Light Pole Banners:
Double-Sided: Same design on both sides or different design per side
Common Sizes: 30 x 60, 30 x 84, 30 x 94, 30 x 96
Pole Prep: 4" Pole Pockets Top and Bottom, Grommets at all 4 corners